10 Best FAQ WordPress plugins 2016 To provide Better Customer Support
FAQ WordPress plugins add an essential feature on a website of Frequently ask questions and it is necessary for a business website which offers products and services.As a business owner, you know that customer support comes first in a business and its help to grow your business.
FAQ WordPress plugins help to create a common question and answer dedicated page for commonly asked questions.Have you been stuck somewhere when customers ask the same question from your support staff?If yes then a dedicated page for that type of questions and answer will be a great idea.
10 Best FAQ WordPress plugins
We have created a list of best free and paid FAQ WordPress plugins.These plugins are shortlisted from a huge list of FAQ WordPress plugins.If you're beginners you can choose a free plugin, but if you want to take your customer support to the next level then you should choose a premium plugin.
1.FAQ Manager
FAQ Manager is a Premium WordPress plugin that can add Frequently asked questions feature on a dedicated FAQ page.FAQ manager allows you to add video in the FAQ section which helps to explain things easily.
FAQ manager works perfectly with any WordPress theme and comes with great features.The answer your readers will read can also like your answer which shows that your answer is helpful for them.
Another amazing feature of FAQ manager which makes this plugin better is the user who couldn't find the answer to their questions can submit a question from a submit question form.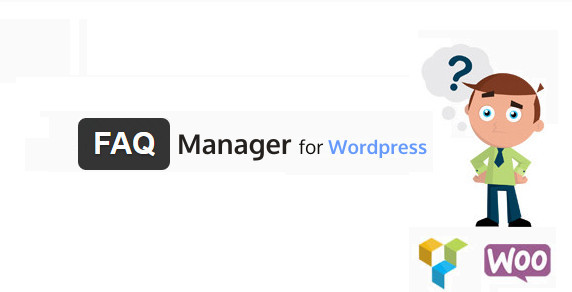 2.Fancy FAQ
Fancy Faq is an another premium WordPress plugin which works similar to the Faq manager.Fancy faq WordPress plugin is a popular WordPress plugin on codecanyon.net which is available in affordable price.
Fancy faq has the responsive design so your users will experience better and it work perfectly with your existing website layout.After adding questions you can show the faq items in your "Post", "Page", or in "Widget" of your website using the shortcode.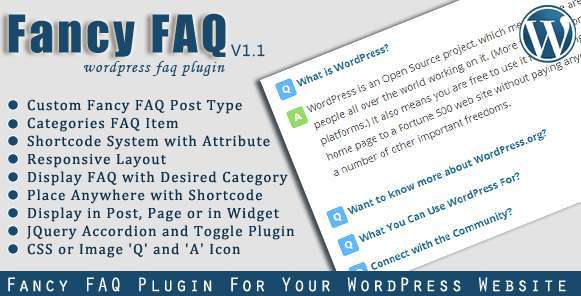 3.HTML5 Responsive FAQ
HTML responsive is a free plugin which is used to add the Frequently ask a question and answer on your business website.It's a free plugin so you may face some lag or compatibility problem.HTML5 responsive FAQ is responsive to any layout so it looks good in every kind of devices such as tablet and mobile.
This plugin has enabled shortcodes so you can also use shortcodes to place your FAQ anywhere even in the sidebar of the website.This plugin is SEO friendly and it's a rare feature in a free WordPress plugin.

4.Spider FAQ
Spider Faq is an another free WordPress plugin which works similar to the HTML 5 responsive Faq plugin and comes with great feature.The Spider FAQ plugin is highly customizable and is one of the best FAQ tools that can be found in WordPress plugin directory.
Spider FAQ has another feature of providing images with the answers.A reader of answers can like or unlike the answer so it shows the relevance of the answer.This plugin is SEO friendly and it's a rare feature in a free WordPress plugin.

5.WP Awesome FAQ Plugin
WP Awesome FAQ Plugin allows creating unlimited FAQ Items with Title, Description.It is very easy to use the plugin, you can create a Faq item and can show your all FAQ item with the shortcodes.It's a free WordPress plugin and works well with your existing theme.

6.Sugar FAQs
Sugar FAQs is an another premium plugin from CodeCanyon.net that can be used to add frequently asked questions.It will cost you $15 which is affordable for every business website.Sugar FAQs comes with many great features such as cross browser compatible, light weight, versatile shortcodes and much more.
It supports 9 color schemes as well as Font Awesome and on top of that, It support text, image,videos with Drag & Drop ability to re-order the FAQ Items.front-end FAQ submission form so your users can submit their own questions which are then set to Pending Review.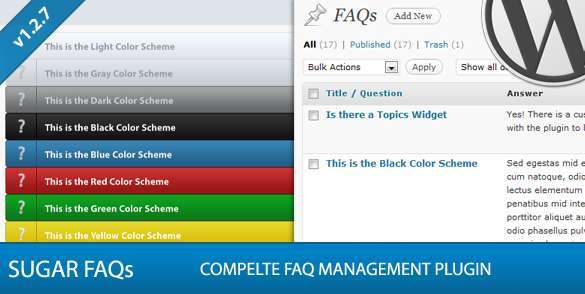 7.Accordion FAQ
Accordion FAQ is available in $16 for the one-time payment.This plugin works same as Sugar FAQs and comes with great features.It has unlimited color schemes and you can choose FAQ page style from its three pre-build layouts.This plugin has three pre-build FAQ templates accordion template, block template and list template.
Accordion FAQ plugin is easy to use and you can setup this plugin in few minutes.It has enabled the shortcodes which allow you to create FAQ anywhere on the page.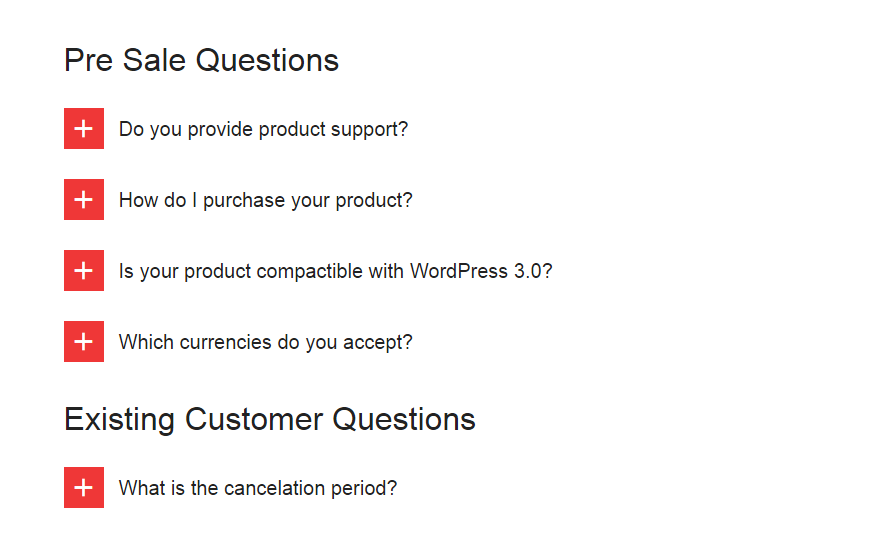 8.Superior FAQ
Superior FAQ is an another rich featured WordPress plugin which is used to add frequently asked the question page.This plugin is available on Codecanyon.net in $17 which is affordable.Superior FAQ comes with 2 layouts simple and boxed.
This plugin also has the voting option which is similar to Like and Dislike button which shows the relevance of the answer to the readers.It offers you nice animation effect to display your answers in style, it offers you two layout style for the FAQ section, you can add five different icon styles before a question element and more.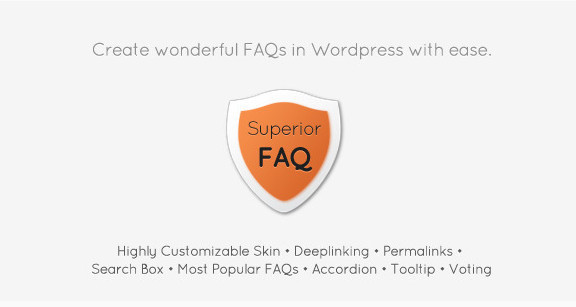 9.Arconix FAQ
Arconix FAQ is the free WordPress plugin which is quite popular and has the 10000 plus active installs.It's a free FAQ plugin but works well in every WordPress theme.Display your frequently asked questions using the supplied shortcode and show/hide them via an animated, jQuery toggle or accordion box.

Final Words
There are many FAQ plugins available on the internet which make it difficult to choose the best one.We have create the list of best FAQ WordPress plugins 2016 which help you to find the perfect FAQ plugin for your business website.