Best Google Analytics WordPress Plugins to See stats in your Dashboard
Want to know more about your website and which post or page performing better on a search engine?Try Google Analytics WordPress plugin to keep eyes on your website's stats.In this post, we have arranged the best Google Analytics WordPress plugins that can be used to track the performance of your website and analyze the web traffic.
Google Analytics is a useful tool to track your website performance that can tell you about how visitors react to your site.Using Google Analytics is tricky.
If you're new then it becomes tough to understand stats about your website, but with third party Google Analytics WordPress plugins you can read the details of your traffic, most popular pages, locations of visitors and other essential info about the website.
Best Google Analytics WordPress Plugin
These best Google Analytics WordPress plugins help you to understand your website's stats better with different graphs, pie charts, geo locations of visitors and amount of traffic you get daily, weekly and monthly basis.
Some of the plugins are free and some are paid, if you have not heard about Google Analytics then choose free plugin, but if you are a professional then I suggest you to use premium plugins to get extra benefits.
Analytify is a premium WordPress plugin, it is an amazing plugin which shows you the real stats of your website using Google analytics.It shows easy-to-understand Google Analytics reports right inside your WordPress dashboard which helps to understand all the information, graphs easily.
Analytify's premium plugin cost you minimum $29 per year, but you can use it for free if you don't want to spend money.Analytify Google analytical free plugin have some limited feature which you can use on your WordPress website for free.
Analytiffy provides you real time stats dashboard which gives you details of each current visitor you have on your site. A beautiful graph and table help you to identify your live visitors.Premium version of plugins emails all the analytics report which is a good feature, so you can check the reports on the go even on your mobile.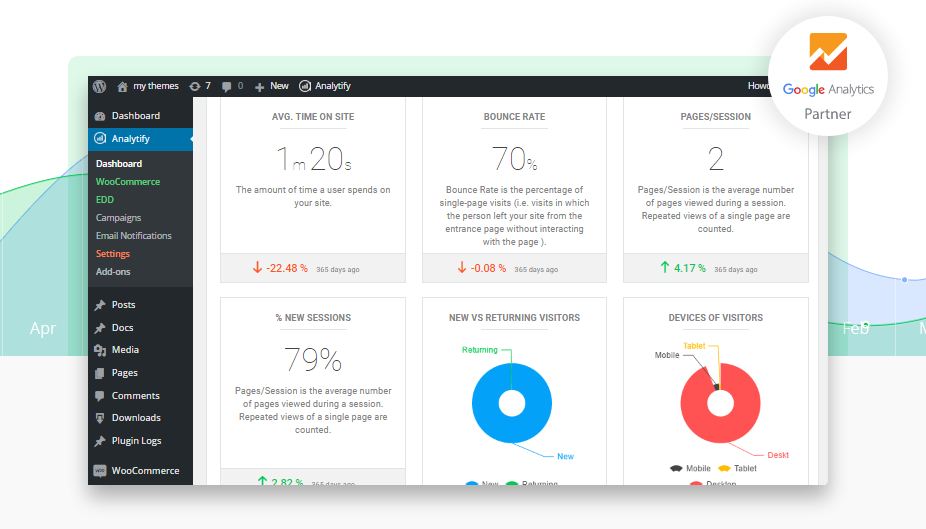 Monster insight WordPress plugin formerly known as Google Analytics by Yoast is a free WordPress plugin to add Google Analytics to your WordPress dashboard.Is is an easy and powerful WordPress plugin which allow you to connect your website with Google Analytics so you can see how visitors find and use your website, so you can keep them coming back. Simply put, we show you the stats that matter.
The company claims that monsterInsights are the most beginner friendly google analytics plugin in the market.This plugin allows you to track your blog visitors easily and always stays up to date with the newest features in Google Analytics.

gAnalytics is a premium Google Analytics WordPress plugin which brings the key statistics right into your WordPress dashboard from where you can analyze the stats of your website and can know more about your customers.gAnalytics arrange your data in a good manner and shows you using colorful graphs and diagrams so you can understand the stats easily.
This plugin has many quality features like you can add a widget of popular posts on your blog to show the visitors.This popular post widget doesn't show the posts with more comments, but posts with more page views.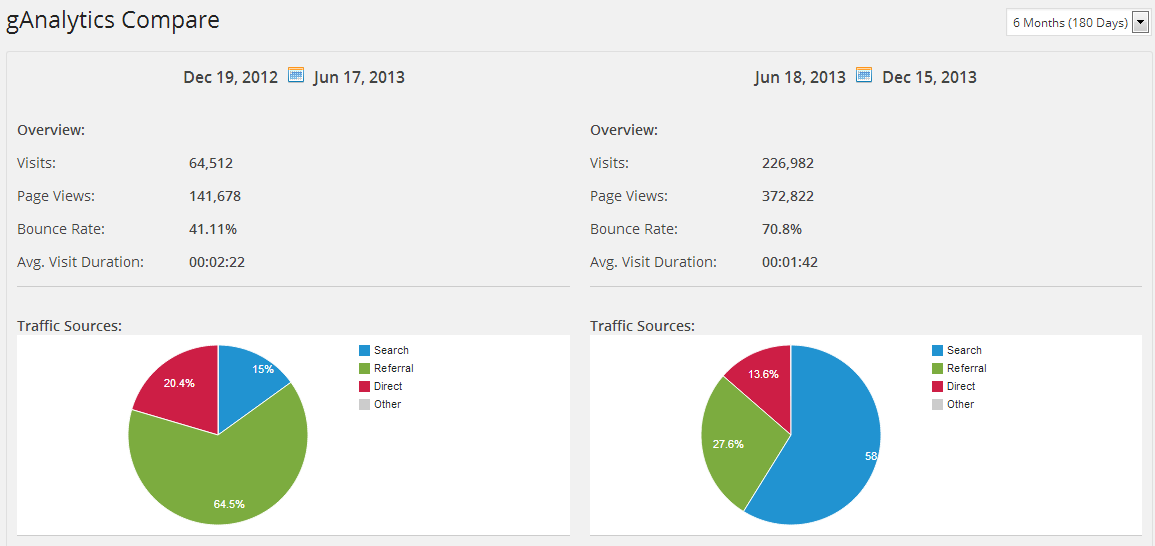 Nk's Google Analytics tool is an another amazing Google Analytics WordPress Plugin, it is a free plugin which comes with some breathtaking features like showing stats in cool and colorful pie charts and graphs.
This plugin uses Javascript to track your website. NK Google Analytics is incredibly flexible as it supports Universal, Remarketing and Classic tracking modes. You can also choose to add tracking code in theme pages, header, and the footer.
This plugin doesn't track the admin users when administrator logged-in.The plugin is very simple to setup, you can practically just install and go. A unique feature lets you track the login and register pages to keep an eye on your logged-in users.

Google Analytics WD is a user-friendly Google Analytics WordPress plugin.It makes easy to setup Google Analytics on your website within minutes.This plugin is available in two version first is free and other is paid.With this simple analytics plugin, you can enable Anonymize IP address to mask the user IPs, or choose to track links with same destinations, buttons, menus and search boxes with "Enhanced Link Attribution".
Google Analytics provides detailed and in-depth tracking reports and web statistics.It allows checking your website Audience, Real Time statistics, and many more reports.It's a powerful WordPress analytics reporting tool widely used for marketing, visitor tracking, remarketing analytics, as well as for tracking keywords, page views hits, visit duration and other web stats.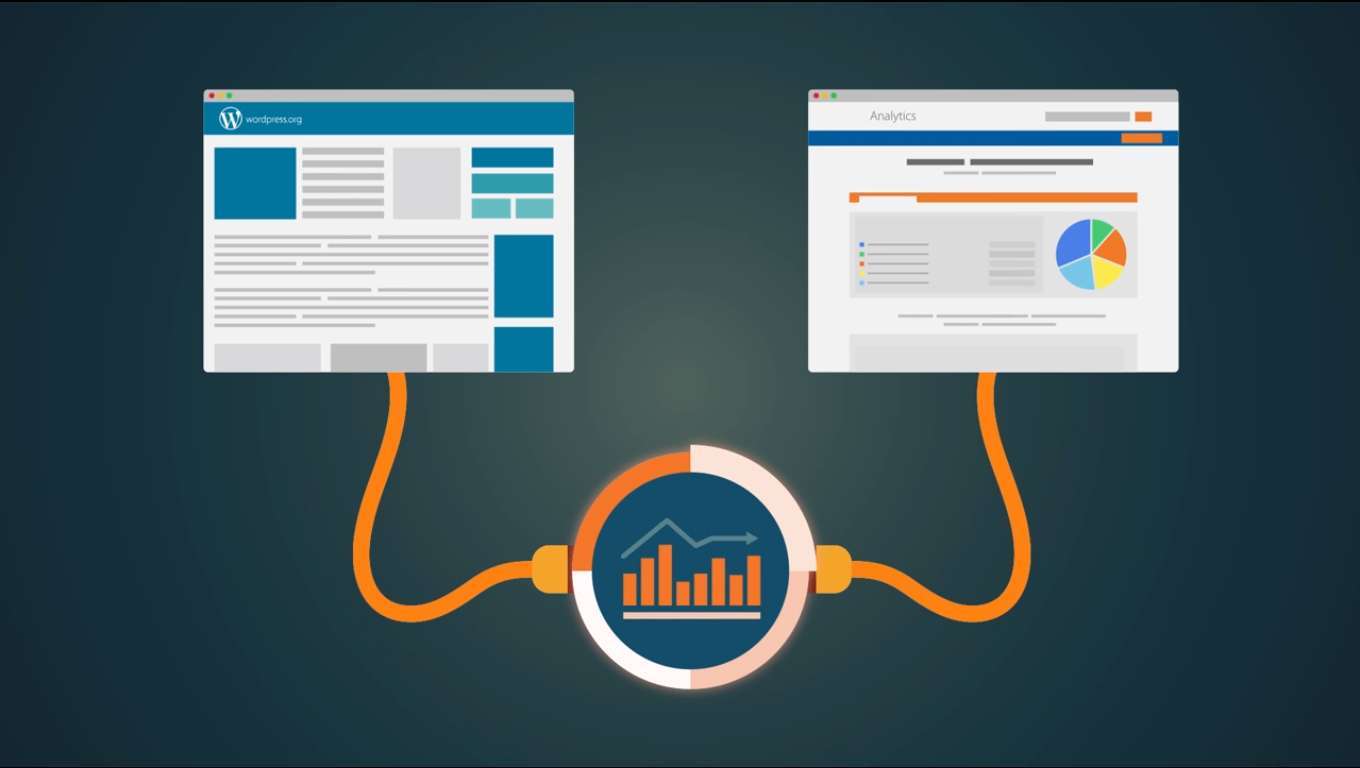 This is my personal favorite Google Analytics WordPress plugin which can add Google Analytics tracking code on your website.Using this plugin is quite easy, you just have to install the plugin and add your Google Analytics account.GADWP plugin shows the stats is the good manner by showing numbers in graphs, line charts and in other easy to understand way.
It shows the real time visitors with the real-time source which is good for the e-commerce and another website.It provides detailed information about organic searches, page views, bounce rate analytics stats Locations, pages, referrers, keywords and 404 errors analytics stats.
You can also see the traffic channels, social networks, traffic mediums, search engines analytics statsDevice categories, browsers, operating systems, screen resolutions and mobile brands analytics stats which really help to know your customers and visitors.

Google Analytics+ is developed by wpmudev which allows you to track and view Google Analytics statistics for an individual site or for an entire multisite network without even leaving your WordPress dashboard.This plugin shows the track visits, page views and bounce rate within your WordPress dashboard and provides details about top posts, pages, and referral links.
Set up Google Analytics on your website is easy with this plugin.You just have to log in to your Google Analytics through Google Analytics+ from your WP dashboard and have to enter the required details.Similar to another plugin, Google Analytics+ also shows the stats using graphs, charts and maps to shows the geo locations.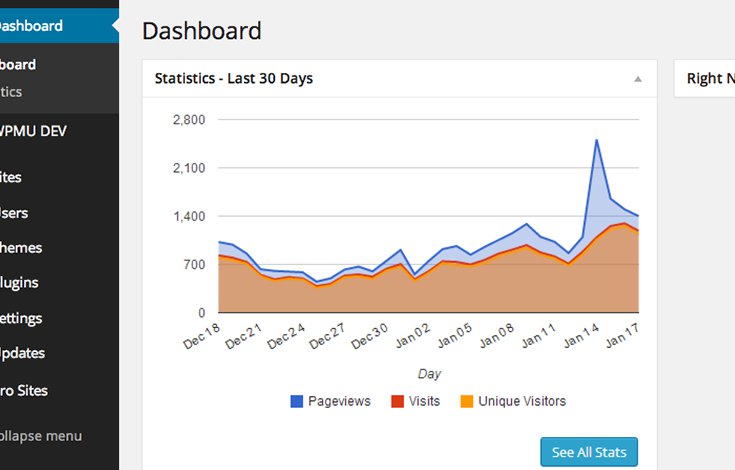 Best Google Analytics WordPress Plugin
Features

Price

Quality

User Friendly
Summary
Google Analytics WordPress plugin to keep eyes on your website's stats.In this post, we have arranged the best Google Analytics WordPress plugins