How to Increase the File Upload Size in WordPress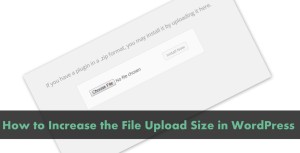 Did you ever face the problem while uploading any large file on your WordPress blog?It's a common error which is faced by many bloggers or Website owners.Sometimes it becomes very important to upload large files on your WordPress blog because of situations.
Today we're writing on How to Increase the File Upload Size in WordPress which enable you to upload large size file, images, videos, theme and plugins.It's not important to increase uploading size limit, but it helps to make things better and easier.
Whenever you install WordPress it's default uploading size limit is very low that's why users can't upload large files, today we show you How to Increase the File Upload Size in WordPress.
Note: It's not an advance trick, it is just a simple trick to increase the size limit of uploading.Generally, file uploading size limit is set by hosting provider.This trick doesn't work with every or cheap hosting provider.Shared hosting of cheap companies doesn't support this trick.
Methods To Increase the File Upload Size in WordPress
We're providing this trick with the different method, every method has its own advantages so choose the method which is easy for you.
1.Plugin Method
The first method is plugin method, you just need to install the plugin to increase the size limit of uploading files on WordPress blog.There are hundreds of plugin which increase the uploading size limit.
Increase upload max filesize increases the file size limit which enable the uploading large files of a WordPress blog.Its uses php5.ini or php.ini.This plugin works 9 times out of 10 times.It means it works on 90% shared and dedicated hosting services.
Alternative Plugin >>Upload Max File Size
2.Create or Edit PHP.INI file
In most cases. PHP.ini file doesn't appear in the front of you if you're using shared hosting.In this situation you have to create a new PHP.ini file and paste this text/Code in your PHP.ini file.
upload_max_filesize = 64M
post_max_size = 64M
max_execution_time = 300

3.Existing Theme Functions File
With the third method, you do not need to create PHP.ini file of install any plugin.You can simply increase the file size uploading limit by entering a 3 line of code in themefunction.php page or functions.php page.
A. Go to your theme editor>>open theme function.php or function.php.
B. Copy and paste the Code and save.
@ini_set( 'upload_max_size' , '64M' );
@ini_set( 'post_max_size', '64M');
@ini_set( 'max_execution_time', '300' );
Final Words
We all know how important to uploading large files when we are running a big website.Users have to upload large files like themes, plugins, videos, images and others.
We mention in the post that some of shared hosting doesn't support these methods because of cheap hosting service.We recommend use premium hosting service if you're looking to enhance your online business or website.
Do you know another one?
We eagerly waiting for your response and new methods, if you know new or others methods to increase file size upload limit then share with our readers.