Best Online Survey WordPress Plugins to Add surveys
A business can only survive when the customers are happy with the service you provide or the problems you solve of the customers.Today in this article we are going to share the best online survey WordPress plugin that can help you to add the surveys or create a poll on your WordPress website.
Keeping a customer happy is a long time investment and you can do it by solving their problems and learn from the feedback your customer give to you.To provide a customer survey form or feedback form you need a fully functional-cum-affordable WordPress plugin to start customer survey on your WordPress website.
Simple poll campaign on your website, allows users to input their thoughts in a couple of seconds. Since it doesn't require a lot of time, users find it more interactive.
Online Survey WordPress Plugins
In this list, you can now browse the best online survey WordPress plugin which is including in this list on the basis of easy to use, features and prices.
1.Modal Survey
Modal Survey WordPress Plugin provides the opportunity to hear your visitors voice through an attention grabber poll. Unlimited surveys, questions and answers helps to get any information, then display it by a stunning progress bar, beauty pie chart or a simple text format.
Features contain the option to embed the poll to your content or display it as a modal style, like a popup. The success of a website highly depends on the visitors, therefore customer satisfaction is the key to improving the content.
The questionnaire can fit the entire page width or can be set to a boxed, smaller size. This full-width type of the poll is a solid manner to get the attention of the visitors and it works effectively.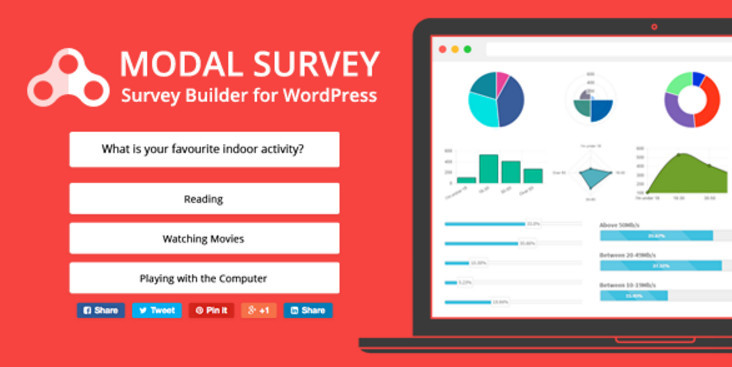 2.Bolder Surveys
The bolder surveys is a premium WordPress plugin that can be a perfect choice for the bloggers and website designers which can be used to create surveys and online polls on WordPress website.It allows you to create a series of questions that visitors can answer in a single page questionnaire form.
This plugin shows the combined and calculated result in the dashboard using pie charts and graphs.It's drag and drops lets you setup, reorder, and delete survey elements through a drag and drop interface for easy use.Another good feature is you can open your survey to everyone or registered users only.
Features
Drag and Drop Interface
Dynamic Statistics
Page Active / Inactive Status
Restrictions for Users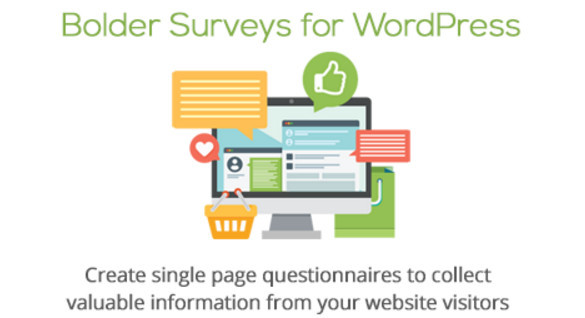 3.Mega Poll Survey
Similar to the modal and bolder WordPress plugin, the Mega poll is a premium WordPress plugin that can add the online survey on your WordPress website.You can choose the best question type for your survey from its multiple question types like multiple choice options or text area.
With its built-in form builder, you can create additional fields and can add in your survey form.Another great feature of this plugin is that it can notify you through sending an email when is successfully voted.
Features
15+ Question Types
650+ google fonts
Well documented.
Set start date.
Set end date.
Live previewer with different devices
You can send the notification to a user when user voted.
You can duplicate survey page.
WPML support.
4.Survey plugin by OpinionStage
Opinionstage's survey is a free WordPress plugin that can be used to organise surveys on your WordPress website.It can add a powerful poll, survey, quiz & from service to your site. opinion Stage includes an online poll design studio that lets you design polls that perfectly fit into your site. You can set the poll size, font, colours, logo and more.
Run profile based competitions & elections – conducting competitions & elections using social profiles, is a great way to achieve more authentic voting. Competitions become much more appealing and tend to generate many social shares that drive traffic from social networks to your site.

5.Mare.io's Popup Survey
Popup Survey plugin is an another free WordPress plugin which is similar to the Opinionstage's survey.Popup surveys & polls allow you to discover new insights about your visitors and users by displaying pop-up micro-surveys and feedback polls on your website using MARE.io.You can create small pop-up polls, or pop-over lightbox surveys and exit surveys easily with MARE's easy to use survey editor.
Features
Multiple choice polls
Multiple choice with "Other" option
Net promoter score or "NPS"
Text answers
5 Star ratings
Multi-select survey
Multi-select survey with "Other" option
Matrix style questionnaire
Gender poll
Email opt-in form

6.Reputation Management Survey
Reputation Management WordPress Survey Plugin is a simple yet very powerful plugin to get feedback from your customers on services and products you provide them.The beauty of this plugin is it allows you to funnel happy customers to the online directory sites like Yelp and Google+ and gives you a heads up that you have an unhappy customer that hopefully you can contact and fix the problem before they tell the world about their bad experience.
The plugin will allow you to set up a page that asks questions and allows your customer to answer it with a one to five-star rating.The plugin will allow you to set up a page that asks questions and allows your customer to answer it with a one to five-star rating.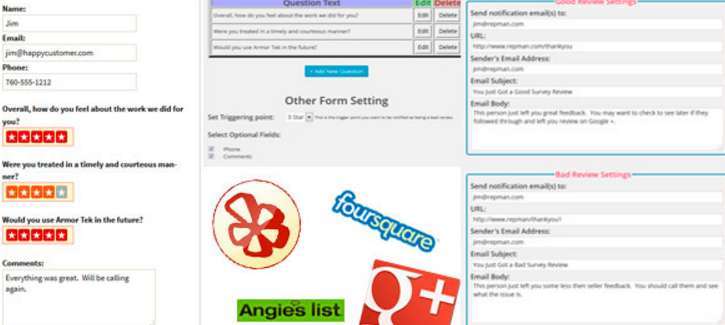 7.Diker Online Surveys
Diker is an online surveys plugin that will measure, improve customer experience and engage your audience.With the help of diker you can understand what drives your website visitors, what makes them happy and what makes them feel bad so you can optimise your website design, content and products based on honest feedbacks. Diker will convert site visitors into loyal customers.
You can customise survey form with background colours, text colour, text font, google font integration, borders sizes, borders colours, buttons background colour, buttons text colour, header padding, footer padding,q uestion text align and much more.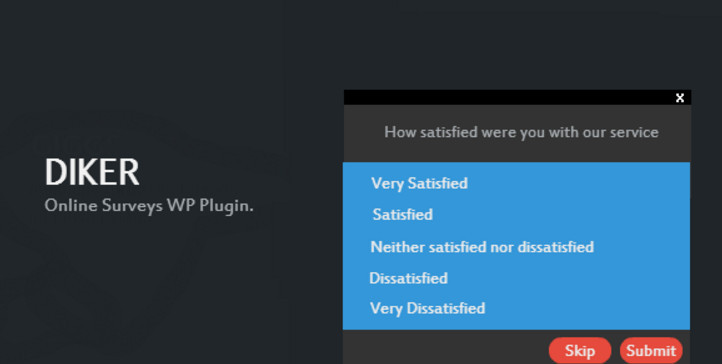 8.Wp Popup Survey
Wp Popup Survey is a premium survey which is easy to setup and use.It shows the survey form to your customers in a popup which your customers can fill to give the feedback to you.WP popup survey comes with different amazing feature and available in a affordable price just in $17.It has a responses and statistics can be exported and 5 Types of survey questions to meet your need.You can easily customize look of the survey form to match your site.
It has a responses and statistics can be exported and 5 Types of survey questions to meet your need.You can easily customize look of the survey form to match your site.