Best WordPress plugins to Customize WordPress Dashboard
Me you and other professional blogger spent more time on using WordPress.Do you ever think about customising your WordPress dashboard with the new colour theme and adding more additional features?In this article, we're going to share the best WordPress plugins which can help you to customise WordPress.
WordPress also allows you to fully customise the place where all the magic actually happens, the admin dashboard, but with these WordPress plugins, you make your customisation of the next level.
1.Wordpress Admin Theme – WPShapere
WPShapere WordPress Admin Theme is a WordPress plugin and a powerful tool to customise your WordPress admin. It will totally white label the WordPress admin section. With WPShapere you have the ability to offer your customers a completely new admin dashboard with your brand name.
It is a premium WordPress plugin which also allows you to change the login page theme which comes with powerful and simple to use options panel.It has unlimited colour options + 16 pre-made Pro themes.
Features
Unlimited colour options
+16 pre-made Pro themes
New: Flat/Default design
White Label Branding
Upload custom logo
New: RTL Compatibility
Custom Icons admin menu
Dashicons and FontAwesome icons
Custom login Theme
2.Retina Press
Retina Press is also a premium WordPress theme which is designed for the WordPress admins.This WordPress admin theme now gives you the ability to offer your customers & clients a completely new and customised dashboard, ultimately disguising the WordPress dashboard.
This plugin has Multisite functionality which detects if you're running a network. If so, then you can completely white label/brand the WordPress admin for your customers.With Retina Press installed you can overwrite WordPress' custom theme colours and pick your very own to match your brand.
Features
Custom colours to match your brand
Look professional to your client base
Clean Design
jQuery animated accordion menu
Custom login page with changeable logo
Retina support
Browser support & tablet
iPhone style switches
Easy install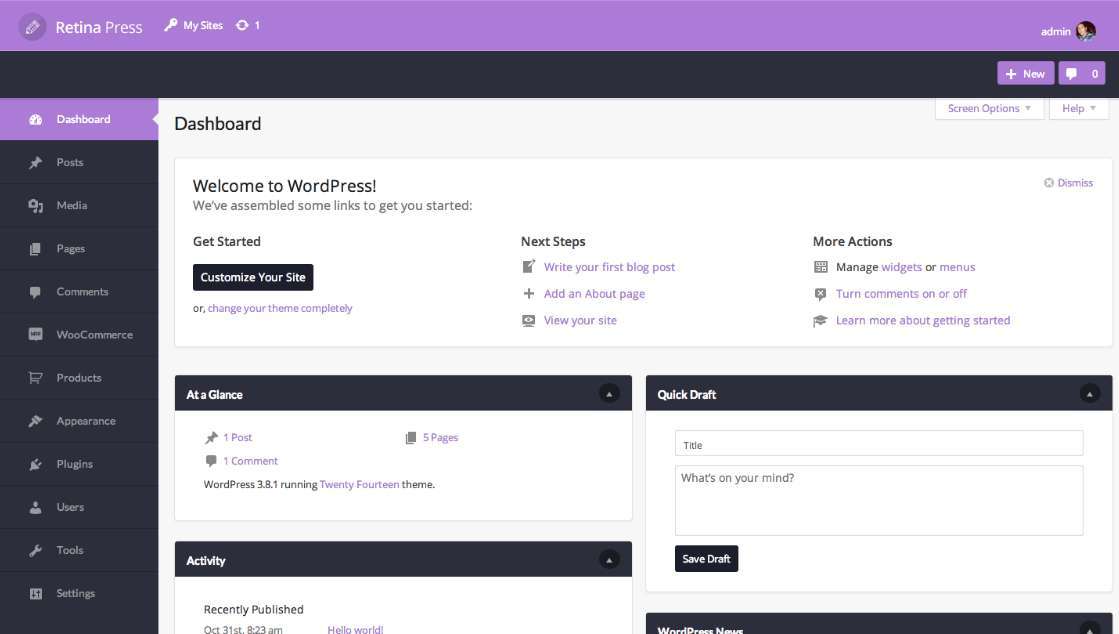 3.Alter WordPress Admin Theme
Alter is an another WordPress admin theme plugin which can customise your WordPress dashboard area by just changing some setting of this plugin.It can completely change the style of the WordPress admin panel to your desired colour theme and alter most the WordPress elements.
It has unlimited colour options so you can choose your own.You can add a custom logo for login and WordPress admin pages.
Features
Unlimited colour options
Flat/Default design
White Label Branding
Your Custom logo for login
Hide admin menu items based on user roles
Custom login Theme
Disable automatic background updates.
White Label Emails.
Export and Import of settings feature.
Powerful and simple to use Options panel.
Multisite Compatibility.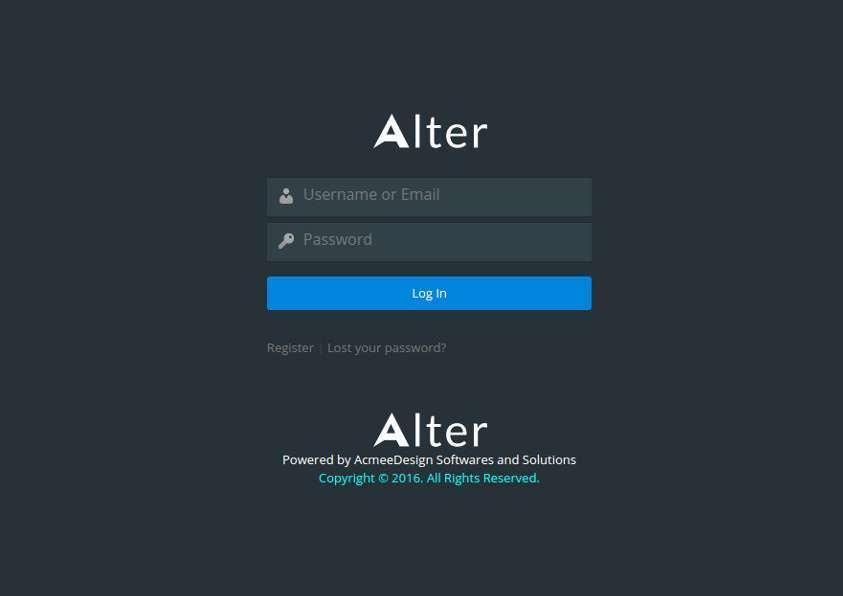 4.Material WP – WP Dashboard Theme
Material WP lets you completely redesign of the admin interface, based on Material Design.This style will completely change the way your admin dashboard looks, especially all of the user interface aspects.
It also brings about a more modern list of features, such as the ability to reorder admin menu items with a drag and drop solution, it's responsive and has a feature called Parallax Block; unique to material design.
Features
Responsiveness
Parallax Block
Login Page Styles
Import / Export of Settings!
Widths and Heights controls of admin menu and Parallax Block
Custom CSS field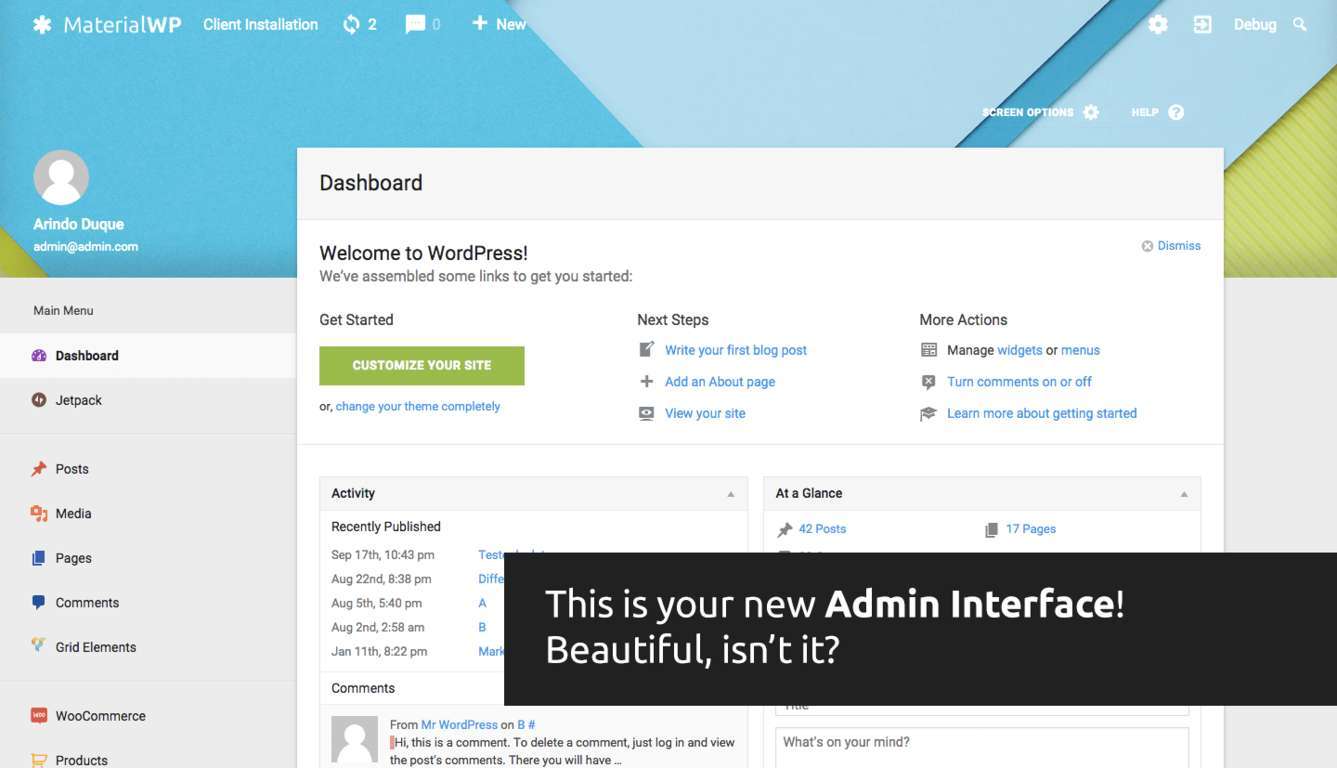 5.Ultra WordPress Admin Theme
Ultra WordPress admin theme comes with 30 awesome inbuilt themes and gives you an option to create your own theme.You can also control the appearance of Admin Menu, Top Bar, Buttons, Content Boxes, Typography, Forms, Text and background colors, logo and so on.
You can add custom logo for login page which is a good feature.It has a good stylling option under which you can pick any inbuilt theme or can create your own theme.
Feature
Smooth Scrolling integrated
Page Loader integration
Black Box Coding Standards
Custom Text in Footer
Enable / Disabled Page Loader
Fully Customizing CSS Main Menu
Control Admin Top bar styling