Top WordPress Plugins to Block Countries And IP addresses
If you're reading this article, probably you want to do the same with your website to block one or more the one countries to access your WordPress site.There may be different reasons to block a country to access your WordPress website and hacking is one of them.Today in this article we are going to share the top 10 WordPress to block countries to access your website.
The other reason for blocking a specific country to access your website is that the content you share is not appropriate for a specific country or If you want to block rogue countries that cause issues like for instance hack attempts, spamming of your comments etc you can block them as well.If your country is blocked, however, you may be able to get around it with a VPN to unblock websites.
1.Country and Mobile Redirect for WordPress
This is a WordPress plugin for redirecting or blocking site visitors based on various use cases.You can redirect your visitors or block on the basis on any combination of location such as country, State, City, language, IP, date, browser, mobile user and more.This Plugin uses SEO standard 301, 302 redirects and enables any page to be used as the 404 page.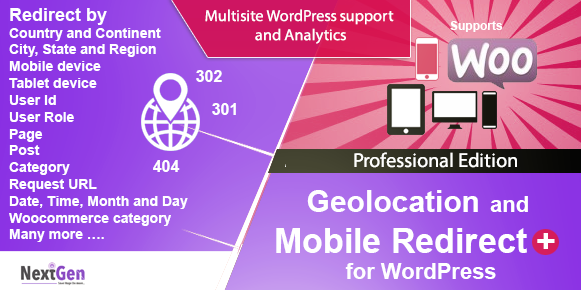 2.Swift Security
Swift security is a firewall WordPress plugin which can secure your website from the brute forces.This is a complete WordPress security plugin which can filter spam comments and configured the firewall with security levels to filter the malicious attacks against.
With Its IP/Geo filter, you can set filters based on IP addresses or specific countries.It means When you block any country then no one can log in through your WP admin page from that location.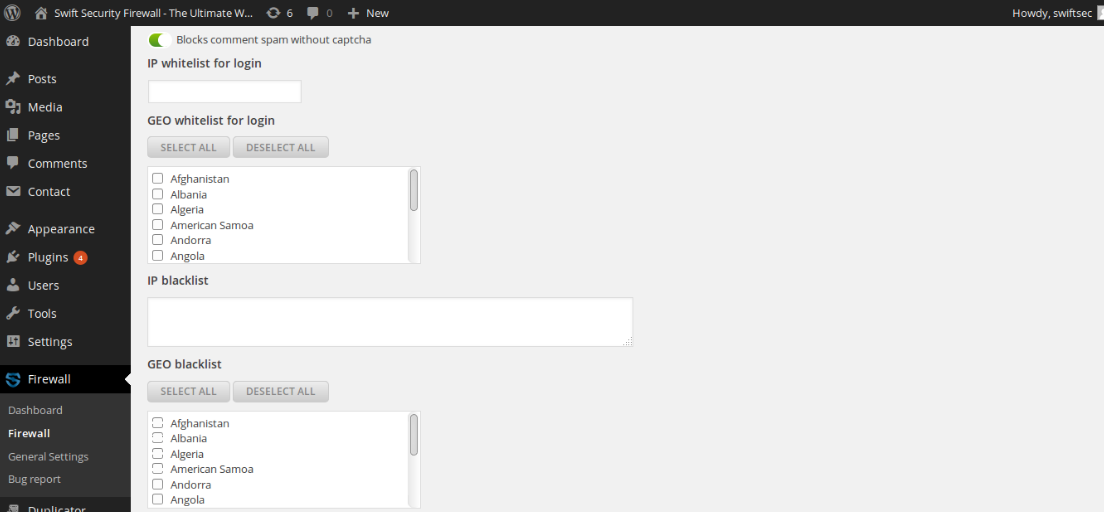 3.iQ Block Country
IQ Block Country is a plugin that allows you to limit access to your website content. You can either allow or disallow visitors from defined countries to (parts of) your content.If you want secure your WordPress Admin backend site to only your country then you can use this plugin.
If you have content that should be restricted to a limited set of countries you can do so. If you want to block rogue countries that cause issues like for instance hack attempts, spamming of your comments etc you can block them as well.

4.GeoTargeting Lite
Geo-targeting lite is a free WordPress plugin which lets you serve content on the basis of GEO location which means with a simple shortcode you will be able to specify which countries are capable of seeing the content.If you use popular firewall services such as CloudFlare, Reblaze, Sucuri, Ezoic, Akamai or Clouways the plugin will auto-detect real IP from users.

5.Wordfence Security
Wordfence is a popular WordPress security plugin which secures your website with by malware scan, blocking, live traffic, login security & more.Wordfence Scan leverages the same proprietary feed, alerting you quickly in the event your site is compromised.
Wordfence country blocking is designed to stop an attack, prevent content theft or end malicious activity.Blocking countries who are regularly creating failed logins, a large number of the page not found errors and are clearly engaging in the malicious activity is an effective way to protect your site from an attack.

6.IP2Location Country Blockers
IP2Location country blocker enables users to block a country to access your website.It protects your website to access from front end or backend.It is a free WordPress plugin which uses geolocation to block a country and allows you to block access from multiple countries.
You can redirect users to a predefined page based on countries and make a default 403 error permission denied display page.It has another great feature of email alert if a user from blocked countries list is trying to access your admin page.

7.IP Geo Block
Similar to IP2Location country blocker, IP Geo blocks spam posts, login attempts and malicious access to the back-end requested from the specific countries, and also prevents zero-day exploit.The plugin supports BuddyPress, bbPress and multiple sources of IP Geolocation databases. It cooperates with full spec security plugin, easy rescue, and self-blocking prevention, etc.