Under Construction Page: A plugin That Creates High Quality Maintenance Mode Page
There is nothing more embarrassing than customer visiting a broken website page when your website is in maintenance mode.If you have a website which is in maintenance mode or you're designing your new website then you need a proper "under construction page".
Today we're going to create a review on Under Construction WordPress plugin that can be used to create high-quality maintenance mode and coming soon page.
If you're struggling with creating an under construction page then use under construction page WordPress plugin.
Introduction To Under Construction Page
Under Construction Page is one the best WordPress plugin that can be used to create custom maintenance mode page.It is an easy, efficient and user-friendly WordPress plugin which works perfect and creates under construction page within minutes.

Under Construction, the page is an absolutely free and you can use it on unlimited websites.The free version allows you to import pre-built demo pages.Developers provide new pre-built layout twice a month.
Now you know why you need this under construction page plugin to get a high quality under construction page for your website.
Features of Under Construction Page
1.Enable or Disable
The first feature of UCP WordPress plugin is that you can enable or disable the under construction mode anytime on your website.You can do it by just a single click in the settings.
Once you enable the under construction mode users will not be able to access the site content.They will only see an under construction page.You can also set the exception for the specific users.
This plugin also allows you to set the custom time and date on which under construction page will automatically disable when the time is over.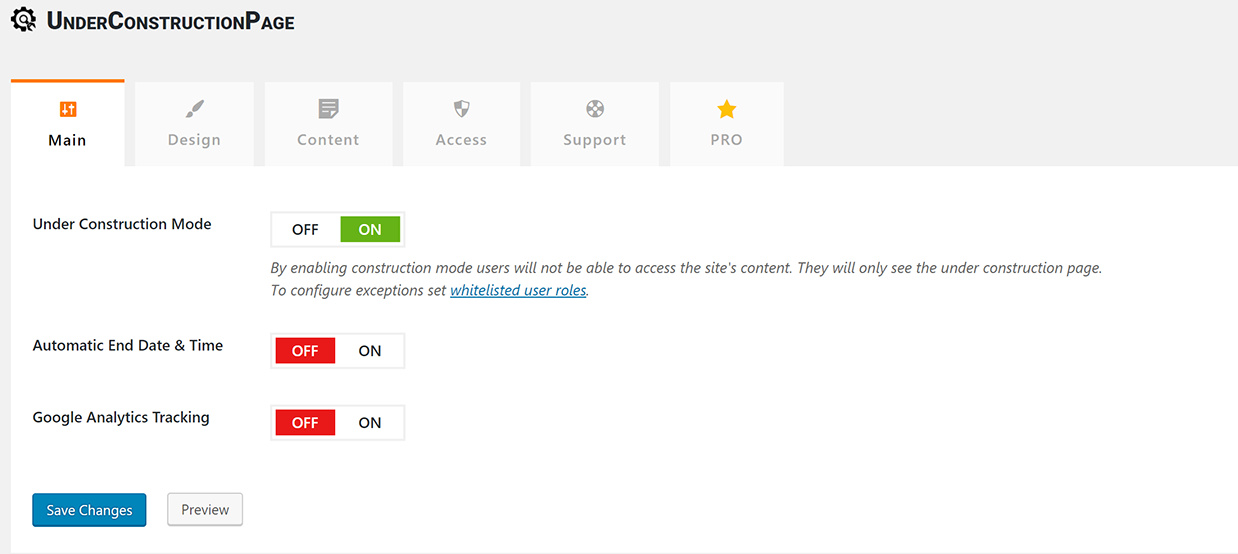 2.Supports Google Analytics
This plugin supports Google analytics which allows you to track visits via Google Analytics.If you already have a Google Analytics account, then all you need is Tracking ID.Find the Tracking ID and then paste it the plugin's settings to start tracking your website's traffic.
It is an amazing feature which lets you know that how many visitors visited your website within the period of maintenance.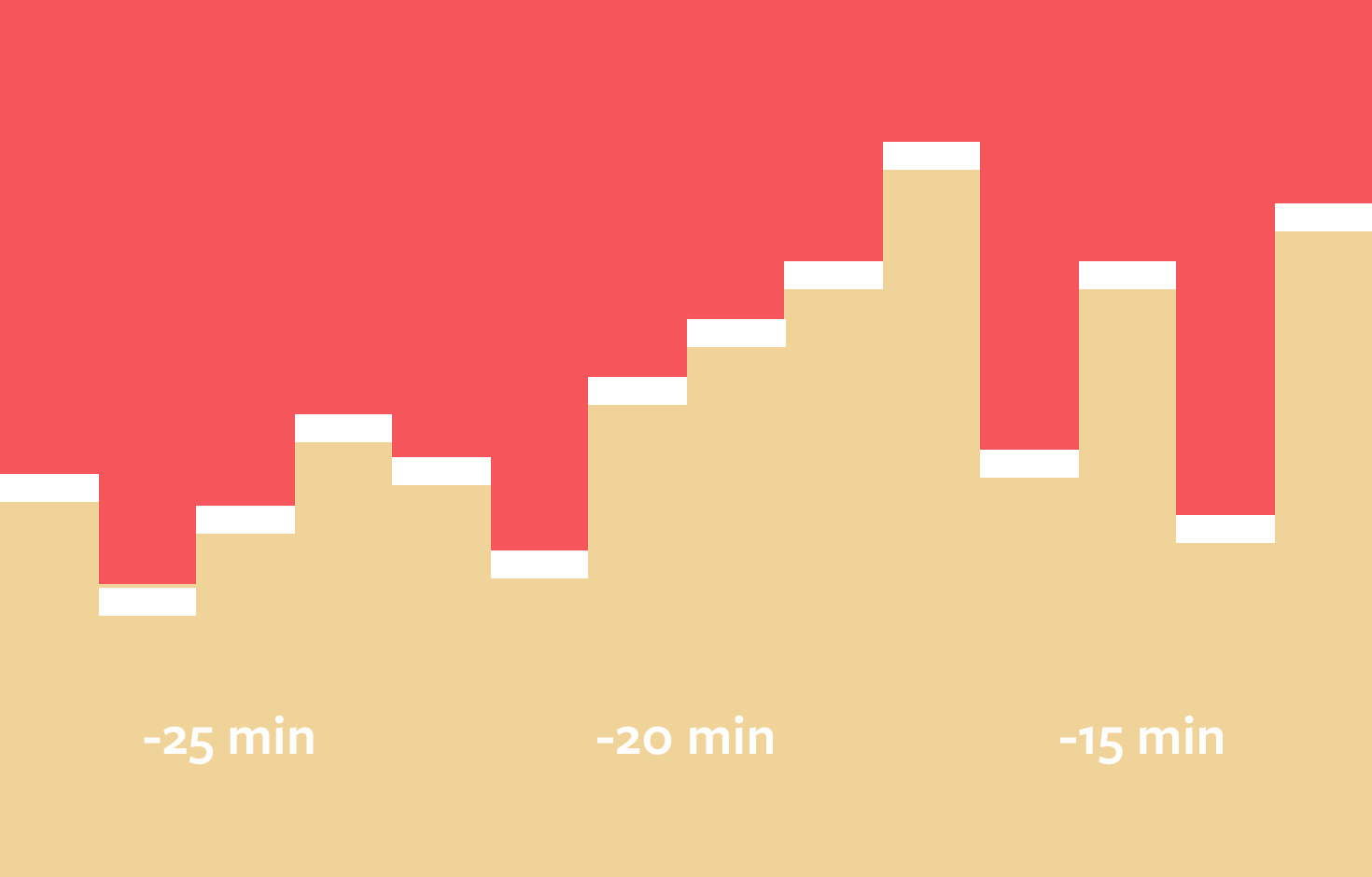 3.25+ Pre-build Designs
This plugin comes with 25+ pre-build designs which help to create Under Construction Page, Maintenance Mode Page or a Landing Page that takes less than a minute to install & configure.
Instead of actually designing the entire page, the developers have made it as easy as clicking a button.There are more than twenty templates already available to choose from, but the amazing part is that the plugin gets new designs two times per month! Completely free.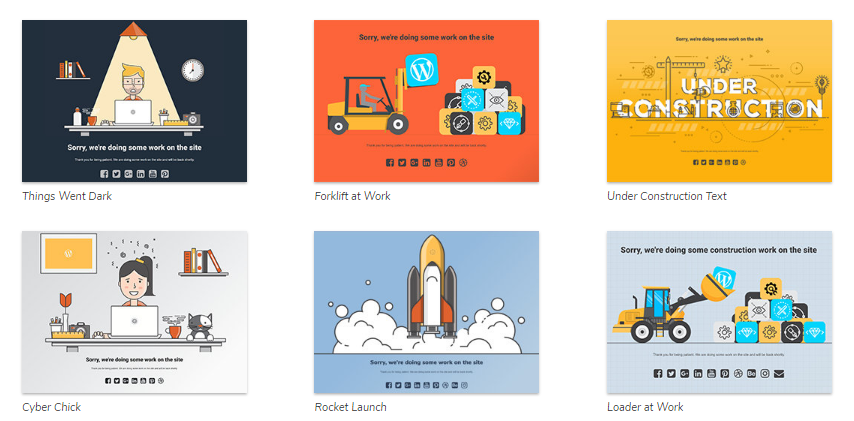 4.Optimized for SEO
This plugin works fine with any plugin and theme and doesn't hurt your website's SEO and ranking.No matter if your website is in the maintenance mode, the search engine will index your page properly without hurting your rank.
So you don't have to worry about your website's SEO and ranking.It has page description which enables search bots to get index on the search engine.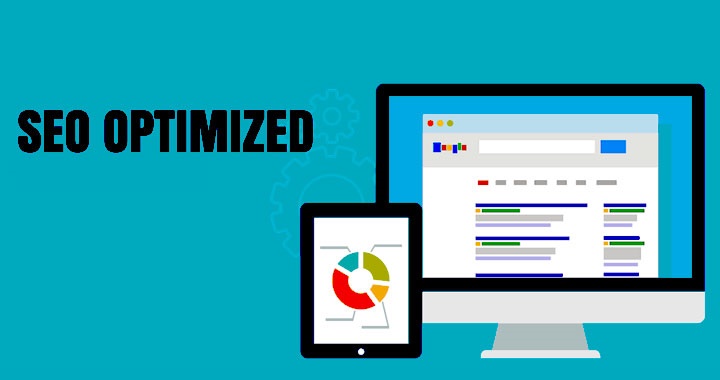 5.Powerful Customer Support
Under construction Page(UCP) has a powerful customer support which helps you to fix all the problems you face while using this plugin.
If you're struggling with the plugin then you can get easily fix all the problem by just post it in the support forum of the plugin which you can get here.
Upcoming Pro Version
If you're looking to do something more with this plugin then you can use its upcoming premium version which provides you more premium options and features to do more with under construction page.
All the users can directly purchase its pro version from the official website and can upgrade anytime without making any major changes in your free plugin.
Features you'll get With Pro Version:
1.Drag and Drop page builder: You can easily customise your own under construction page using drag and drop page builder.
2.Improved access control: With the pro version you can control the website access more effectively when under construction mode is active.
3.Custom links with custom expire rules: The pro version lets you place custom links on the under construction page such as other website links which is owned by your agency.
You can also set the custom expire rules other than the ordinary expiry option which you get with the free version.
4.Newsletter Module: Newsletter modules lets you add the email newsletter form on the page so the customer and visitor can subscribe to newsletter even when the under construction mode is enabled.
It also supports MailChimp and Zapier they both are the major marketing automation platform and an email marketing service.
5.Countdown timer: Countdown timer lets your users know the exact date and time on which your website will live again.
[mkdf_button size="" type="" text="Video" custom_class="" icon_pack="font_awesome" fa_icon="" link="https://youtu.be/fqqWrQENSDc" target="_self" color="" hover_color="" background_color="" hover_background_color="" border_color="" hover_border_color="" font_size="" font_weight="" margin=""]  [mkdf_button size="" type="" text="Demo" custom_class="" icon_pack="font_awesome" fa_icon="" link="https://underconstructionpage.com/#designs" target="_blank" color="" hover_color="" background_color="#ff7212″ hover_background_color="" border_color="White" hover_border_color="" font_size="" font_weight="" margin=""]
Under Construction Page WordPress Plugin
Features

Ease of Use

Quality
Summary
This Under Construction Page WordPress plugin is the best solution to create under maintenance mode page for your website when you're making changes in your website.